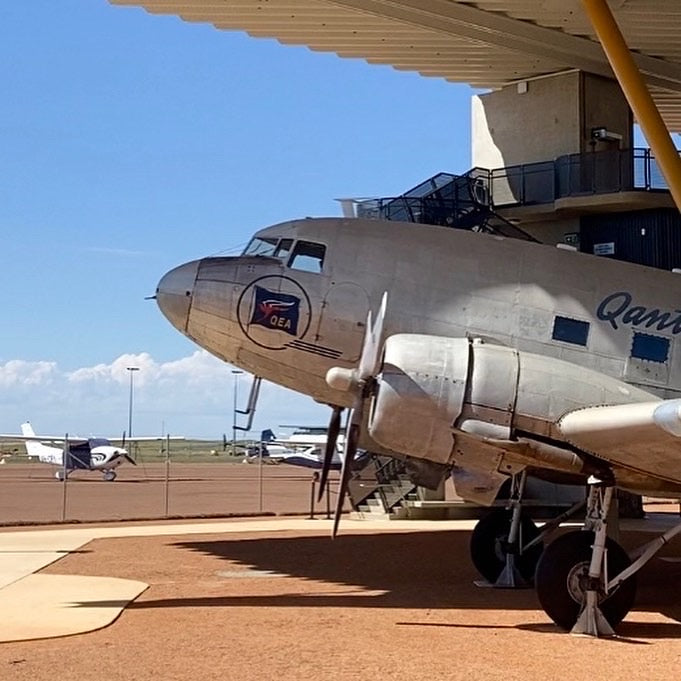 24 Hrs in Longreach, Queensland
24 Hrs in Longreach, Queensland

LEAVING behind the fertile, green soils of Goondiwindi to fly three-and-a-half hours north-west to the red-dirt country of Longreach to visit my son, George, I fell in love all over again with the flat, vast landscape of the Channel Country - this time, showing it for the first time to my youngest son, Walter, alongside my husband, Bruce.

It felt truly incredible lining up on the big, beautiful Longreach runway and seeing the Qantas Museum at the end of it. We landed, taxied and parked, and felt very insignificant in a Cessna 182 beside the big 747 and 707.
With such a long and powerful aviation history, it was a wonderful moment to stand beneath the incredible structure of the Qantas Museum - you can feel the history. Wandering among the big, beautiful aeroplanes, I thought often of the pilots of yesteryear who certainly didn't have the luxury of the big, beautiful runway that I had that morning.

It felt incredibly special to be back - even more so, to be sharing it with my family.
What makes Longreach, Queensland, Special
We've always loved Longreach, and have felt a strong connection to the land there - my husband Bruce's grandmother grew up on a property called "Devoncourt" Cloncurry, and her uncle was a man named Fergus McMaster. Fergus was one of the original founding members and the first Chairman of Qantas. We love the famous saying that Qantas was conceived in Cloncurry, born in Winton and raised in Longreach.

With only 24 hours available to enjoy every part of beautiful Longreach, we quickly went to our accommodation at Saltbush Retreat across from the airport in one of their beautifully appointed, rustic slab huts. Housing cast iron baths in the open air, it was a stunning way to soak in the afternoon sun and serenity of the Channel Country.

For dinner and breakfast, we went to a beautiful cafe called The Branch, which is an old bank that has been converted. It felt like we'd stepped into a cafe in Melbourne. Stunningly decorated and so chic, I couldn't wait to take endless photos of it. The people inside were so friendly, and we loved going back there for each meal.
Longreach is a little like that, though - it has a warmth, a feeling of joy and openness - everyone wants to say hello and get to know who you are, and where you're from. The town itself still seems to have such a pioneering spirit - particularly with the people who invest everything they have in the region, whether it's cafes, tourism or farming - they're doing something powerful amidst the unique, isolated and challenging land.

Leaving Longreach, Queensland

When we were fueling up to leave Longreach, I met two lady pilots from Byron Bay & Sydney who were admiring the Aerohart lanyard I was wearing around my neck. I started telling them about the journey of Aerohart, and, before I knew it, I had invited these lovely women and their husbands to fly their R44s to the launch event in Goondiwindi.

For me, I think that's what aviation is all about.

When I'm at the Goondiwindi airport, it's about having a chat and helping people, giving them a lift into town - being an aviator is a terrific, special club to be a part of. It goes to show that we are all connected - pilots truly come from all walks of life.

This trip, with my family, was a blast.

Where should we visit next?
Yolande xx