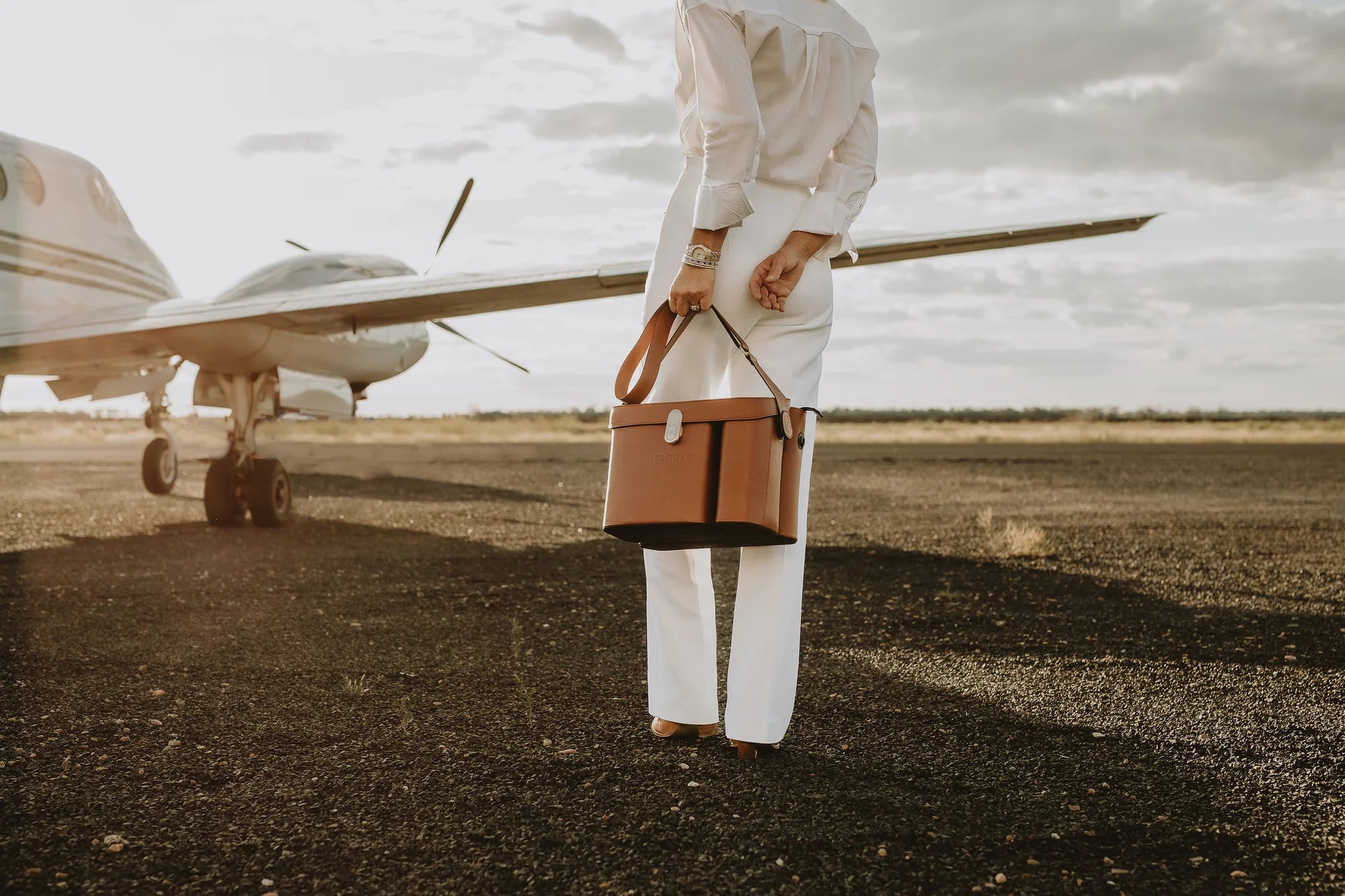 Flight Bags Down Under: The Ultimate Guide to Choosing the Best Australian Flight Bag for Your Travels
As a pilot or frequent traveller, you understand the importance of a reliable and functional flight bag. Your bag not only carries your essential items, but also serves as your trusted companion on your journey. Choosing the right bag can make your travels more comfortable, organised and stress-free.
In this guide, we'll introduce you to the best Australian flight bags and highlight the features that make them the ideal choice for pilots and travellers. We'll also showcase our range of high-quality, stylish, and practical flight accessories.
Our Guide to Pilot Flight Bags
Aerohart offers a carefully curated collection of high-quality, stylish, and practical bags and aviation accessories. Our bags are made with premium materials such as genuine leather and are designed to meet the unique needs of pilots and travellers. 
Some of our standout products include the Aerohart Torres, which is perfect for carrying all your essential aviation tools, and the Aerohart Flight Satchel, which is ideal for short trips. 
Our bags are stylish and functional, making them the perfect choice for anyone who wants to travel in style. Read on to discover more about our stylish range and why they're perfect for your next trip.
Our Men's Flight Bags in Australia: Adapting to Your Lifestyle
Aerohart's flight bags in Australia are designed to adapt to your unique lifestyle. They are versatile and can transition from the cockpit to the boardroom. They reflect the dynamic lives of pilots and frequent travellers, who require a bag that can keep up with their busy schedules. 
A versatile bag is essential for anyone who wants to make the most of their travel experiences, whether it's for business or pleasure. Browse our range today.
What is a Pilot Flight Bag?
A pilot flight bag is designed to meet the specific needs of pilots and frequent travellers. These are typically large enough to hold essential items such as maps, charts, headsets, and other aviation tools. 
They are also designed to be durable, functional, and easy to carry. A well-designed bag can make your journey more comfortable and organised, allowing you to focus on flying.
Things to Consider When Choosing a Flight Bag in Australia
When selecting a bag, several factors should be considered. Durability, functionality, design, and materials are essential features to look for. A good quality bag should be able to withstand the rigours of frequent travel, be functional enough to carry all your essential items, and be aesthetically pleasing to the eye. 
Aerohart addresses these factors with our products by creating accessories that are not only stylish, but also highly functional and durable. Our bags are designed to last and are made with high-quality materials such as genuine leather.
The Best Pilot Flight Bags for Different Needs
Different styles of bags are available to cater to the unique needs of pilots and travellers. The type of bag you choose will depend on your specific needs and preferences.
Here are some of the most popular types in our range: 
Men's flight bags are designed with a masculine touch.
Flying bags are more compact and ideal for short trips.
Pilot flight bags are typically larger and can accommodate more items.
Leather flight bags are stylish and durable.
Ready to Take Off with the Perfect Bag?
Investing in a high-quality, stylish, and practical pilot flight bag is essential for any pilot or frequent traveller. Aerohart offers a range of bags and aviation accessories that cater to various needs. Shop now to find your perfect bag.